Web Hosting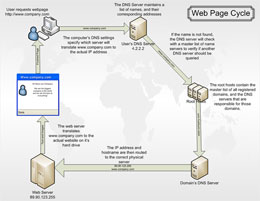 A typical web site is hosted on a single server, with one address, and is found by querying a single DNS server. There are many parts involved in serving a web page to the User.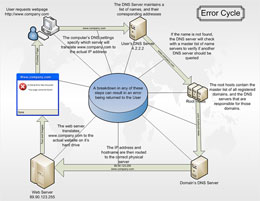 Problem with this cycle: If there is a breakdown in any one of these parts, the page appears to be unavailable.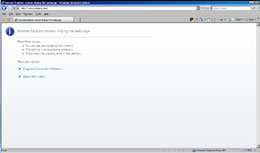 So, instead of your Company's Web Page, the user finds the famous "Page cannot be displayed".


---
Alternative Aspect Web Hosting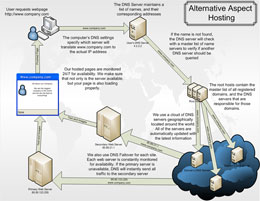 We take every step possible to reduce or eliminate the chance of a user ever trying to access your page and coming up blank.
From the first possible point of failure to the last, we take everything that is within our control, and at least double it.


Domain Name System
DNS is the backbone of the internet, and is the foundation to your domain name. Every email or web visit you receive begins with a DNS lookup.


DNS Facts
Without DNS the Internet would be unusable to most of the people in the world. DNS is the driving force ("gears") of the Internet.
DNS is often the first service overlooked by IT departments when they discuss redundancy.
DNS failures account for as much as 29% of system downtime costing companies millions of dollars.
A study conducted by IDC determined that only 41% of small companies and 35% of large organizations monitor Internet DNS response times.
The majority of time devoted to DNS is spent on updating and fixing DNS problems. In addition to poor monitoring habits, companies also tend to have their DNS servers poorly distributed.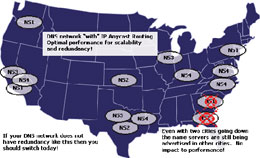 We have committed to 100% availability to our DNS infrastructure. Intelligently-routed bandwidth combines connectivity from over 20 diverse providers including Verio, Level (3), AOL / Time Warner, BTN, and many more. Failure of any single provider or multiple providers at once has no effect on the uptime of our network. Border Gateway Protocol 4 (BGP4) is incorporated to insure continuous uptime.

Intelligent routing equipment reduces latency by allowing incoming and outgoing packets to take the shortest, most efficient path - this means that our network is optimized for low-latency applications such as DNS.

Fully redundant, no single point of failure.


Web Server
Our web servers are securely maintained on Enterprise Linux servers in a core network built upon equipment by Juniper Networks and Cisco.

DDoS protected with industry best IPS / IDS prevention:

Protection and performance against worms, viruses, Trojans, DDoS Attacks, Microsoft vulnerabilities and more.
Protection against malicious content through advanced IPS technology.
Protection against undesired access through stateful firewall filtering.
Protection against rate-based attacks such as DDoS attacks through DDoS mitigation.
A copy of your web sites are kept on at least 2 separate servers physically located in different parts of the country.

DNS failover will automatically monitor and redirect all users to the available web server in the event that one of the servers is unavailable. Once the server is repaired, web traffic resumes to normal operation. All of this is seamless to you and the site's visitors.


Value addes features
Our web hosting is a one-stop shop for all of the web services you will require.

We design your site from scratch.
We register, renew, and maintain your domain name.
We maintain, update and host all of your DNS records on our redundant servers.
We maintain, update and host your SSL Certificate for secure sites.
We monitor the site, and prevent, or correct any potential issues typically before they occur.
Web site backups are archived on optical media for lifetime retention.


Contact us

Alternative Aspect
PO Box 266
Bergen, NY 14416
USA

Phone
585-200-3110


Email
To send us an email please use our convenient contact form.



Facebook





Bitcoin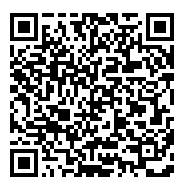 1PPqqPwkEp8TNVvdSCVVRwARSyNMieZFwM