Consulting/Support
Network Assessment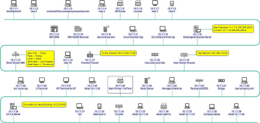 In just a short time, we can provide you with an overview of your current network, and all of the devices on your local network. This is beneficial to you, and will serve as an excellent starting point for us. Upon completion, you can expect a hard copy of a complete overview of all of the devices that are attached to your Local Area Network.

The pricing for this service will vary, depending on the number of devices on the network, and number of physical locations as well as their geographic location.


---
Network Design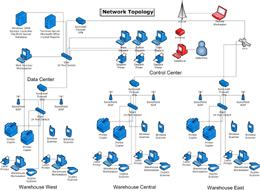 Once we have completed a Network Assesment at your location(s), we can begin to create a "desired state" design that could improve connectivity efficiency. This will help you reduce costs, and improve usability and efficiency for your end users.


---
Server Scaling
Many businesses begin small, and (hopefully) expand. We recognize this, and know that typically the network servers begin to multiply as the business expands. The problem exists when servers are added to an unmanaged and uncontrolled network, they have a greater chance of reduced security and underutilized hardware.

We will asses your current hardware performance and software requirements, and provide our experienced opinion on how you can reduce costs associated with excess equipment. Many hidden costs are just absorbed into the business as operating expenses, and we would like to help you reduce these in every way possible. The cost of physical space, electrical power, hardware and software maintenance, backup media and labor, and air conditioning are often overlooked, but can add up exponentially as more servers are introduced into the environment. By consolidating many servers functions onto shared servers, we can reduce much of the hidden costs and typically justify the expense with $$'s that you will save over the course of a year.


---
Application Planning and Deployment
In an ever changing world of technology, there is always a reason to implement new applications, and upgrade existing applications. Many times we have to stay up to date to maintain support agreements with vendors, or to keep compatibility with our customers systems. As vendors create new software, they will typically phase out older versions, and discontinue support for the previous versions.

We can help overcome the obstacles of software deployment by managing the project to ensure each user is comfortable with the inevitable changes. We can create a plan to fit your schedule, and provide suggestions based on experience. Software deployment can become a painless experience that your users will look forward to.
---
Network Monitoring

Regardless of the size of your network, you can benefit from enterprise level monitoring systems. This system will allow us to react to emergency situations in many cases before you even realize a problem exists. We can provide you with detailed graphical reports of your network activity, and device utilization to allow you to make decisions based on facts and data.

This service is typically limited to large enterprise networks with thousands of devices. By outsourcing the monitoring to us, you can gain the benefit without the high cost usually associated with implementing a dedicated monitoring server.
---
Server Administration
File/Print Servers, Email servers, Application Servers, and Web Servers are highly critical to your daily operation. Losing access to one of these functions can result in exponential costs to your business in lost production time. Anyone who has experienced this type of outage can speak to the substantial loss that is typically associated with it.

While server hardware and sometimes software can be, and usually is, designed to prevent failures, sometimes they are inevitable. We have not only been trained to respond to these disasters, we are also experienced in providing alternative solutions to best overt the disaster, and return the business to an operational state with the least amount of downtime.


Contact us

Alternative Aspect
PO Box 266
Bergen, NY 14416
USA

Phone
585-200-3110


Email
To send us an email please use our convenient contact form.



Facebook





Bitcoin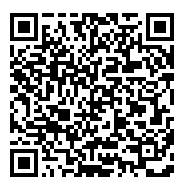 1PPqqPwkEp8TNVvdSCVVRwARSyNMieZFwM